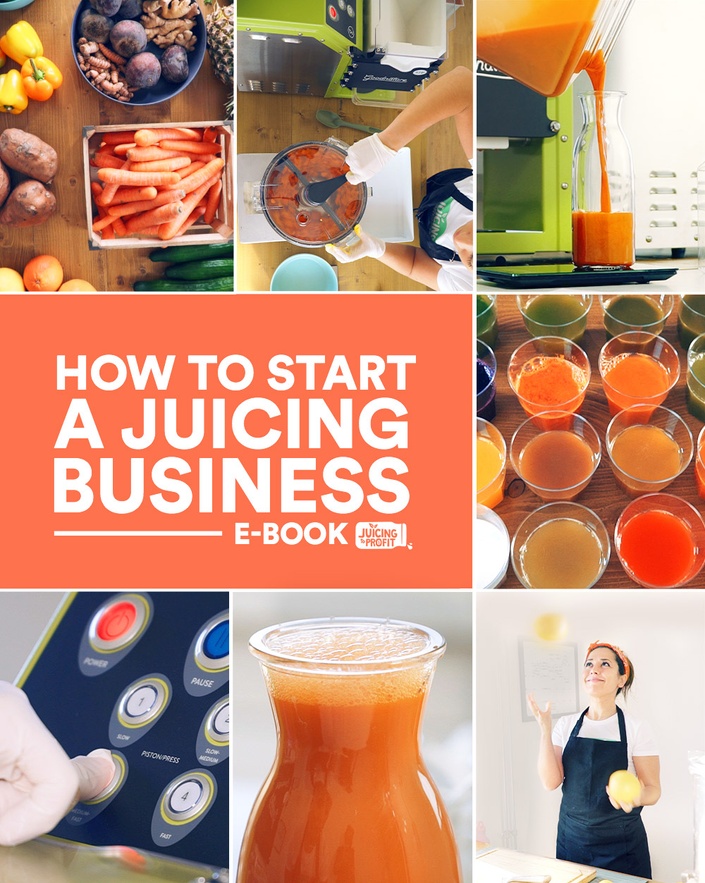 E-book: How to start a Juicing Business
Create a business that's profitable and changes lives, while doing what you love
Here's to the juice lovers. The rebels. Who believe food is medicine. The ones who see things differently and want to help others. If you're considering to start your own juicing business, then nothing is going to stop you.
But where do you start? What does it take? How much time does it require? And how can you turn your idea into action? That's where we come in. We've bundled all of the information we've come across over the years consulting juicing businesses and put it into one thirst quenching e-book.
And do you think starting a juicing business is all fun? We'll definitely show you what trouble you're getting yourself in. Being a juicing business owner is hard work! Beyond preparing your juices, you need to think about health regulations, juice shelf life, packaging, and delivery. You need to invest in a juicer and a location to prepare your juices. And what about your marketing strategy and profit margins?
Don't worry. The e-book will help you to provide you with all of the juicing business secrets you need to know to make your journey a lot easier. It won't start the business for you. But it's a good kick in the butt, so you won't let go of your juicing dreams and get to do what you do best: making people healthy with the best juice they've ever had!
So, if you also see things differently and believe you are the difference between the world as it was and the better place it will become, then let's get started!
What do you learn?
How to create a profitable business
What are your exact startup costs? How do you calculate the best price for your juice? We'll help you calculate your profits margins so that your juicing business will thrive and have a long-lasting future…
Translating your unique story to help and inspire others
One of the primary reasons people want to start their own juicing business is to help others with juice. You will learn how to share your message to influence and inspire others to turn your customers into juice fans.
Which juicer to use for each size of business
Learn everything you need to know about buying the right juicer, and make sure your first investment doesn't go to waste.
How to check your labels
Uncover everything you need to know about labeling your juices and creating beautiful packaging that will separate your juices from the pack.
How to create vitamin-rich and tasty recipes
Easily produce your juices from a selection of best-selling recipes that have the right balance in taste and nutrients. Your customers will love them and come back for more.
To know all of the rules
Understand the do's and don'ts of establishing a legitimate business entity, as well as other vital business requirements, like establishing a commercial kitchen from home. You'll impress yourself with your well-thought-out plans.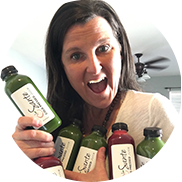 "The Juicing to Profit program gave me a duplicatable and easy to follow step-by-step system to follow. It takes the guesswork out. I love being part of this awesome community! I have a new sense of confidence that yes, I can do this!! I feel very optimistic and excited about starting my business!"
- Cybill, Founder, Santé Cold-pressed Juice
Frequently Asked Questions
How long do I have access to the E-book?
Forever when you download it. After enrolling, you can download the e-book for a period of 1 month - across any and all devices you own.
Will this work if I'm not starting in the US?
Yes. You'll learn step-by-step how to start your business no matter where you are located. While the course is in English, and most of the examples are in USD, the concepts and principles you'll learn in Juicing to Profit apply across internationally. It truly comes down to your personal comfort level with carrying over the lessons you learn and applying them in your country.
Will I receive a hard copy in the mail?
No. This product is 100% digital. The good news is that you won't have to wait for this course to arrive in the mail. You will get INSTANT ACCESS. You can start your journey within minutes of deciding to buy.
Will taking this course eliminate the need to create a business plan?
Yes and no. There's no substitute for a business plan. But it is highly possible that you will have enough of the foundation of a business plan created already by going through this program. We have several students who've reported that Juicing to Profit has saved them hundreds of hours they would have otherwise spent on researching and writing a business plan. You might choose, for any number of reasons, to create a business plan and I will encourage you to do so, but that's truly up to you. I hope that, after completing the exercises, you'll feel confident to start this business.
How long is the E-book? When will I be able to start my business?
The E-book has over 115 pages. You can go as fast or as slow as you would like. In our experience, with everyone starting from a different background and education level, people go through it at very different speeds. Some go through all of the materials within one week, and others were much more deliberate, stretching it out over the course of several months to get started. The best part is, ANYONE can do this. You don't need to be a successful entrepreneur; you don't need any business experience (although this would certainly help); all you need is determination, patience, and belief in yourself.
What do I do if I need support?
Just reach out! I'm here to help if you run into problems, have a question about the program or just want to say hello. You can reach me by email at
[email protected]
What if I am unhappy with the E-book?
We would never want you to be unhappy! If you are unsatisfied with your purchase, contact us in the first 30 days and we will give you a full refund.