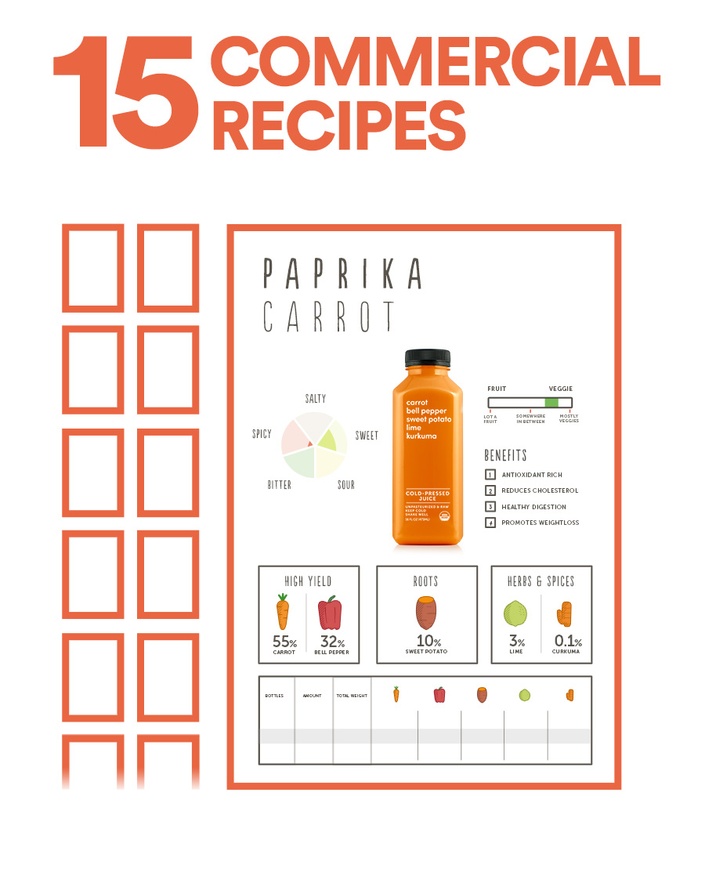 15 Commercial Recipes
A variety of 15 delicious, "business ready" and profitable juice recipes.
"Business Ready" Recipes

There's an art to making juice. Like becoming a better cook. It can be a lifelong journey. You can always learn something new. Tweak flavors, make juices healthier or add a new ingredient. There are plenty of things you can think of, from selecting your ingredients through balancing flavors. We spend months developing different recipes for businesses, and that means that a lot of ideas and juices end up in the trash can. To become better at developing recipes, you'll need to do the same.
Developing recipes for business is quit different from juice you make at home. I'd been making juice at home for several years. I love the taste of them, so did friends and family. But once ready to sell my juices I learned that the recipes are slightly different for businesses. I needed to modify my juices a lot. There are 2 main differences.
Recipes are in Percentages
My recipes looked something like this:
It's also how you'll find most recipes online. But how large is the carrot? There different every time! It makes it difficult to get your juices taste the same every time. You also don't know how much produce you'll need. It makes it impossible to calculate your food cost. Using recipes based on pieces of fruits or vegetables is not an accurate way to produce juices on a larger scale. For business, we want to create recipes based on percentages. Like this:
Profitability
When juicing at home, I'd never taken into account what a single juice cost. I would buy a couple of bags of veggies and juice as much as I could. But in business, you have to take into account the price of the bottle, the label, every single ingredient and have a margin for your costs and profit. If my ingredients are too expensive, I end up with a $25 juice. So when developing your recipes, you have to take this into account. That's why a lot of juices that are sold are based on ingredients that are less expensive but have a high yield. Such as cucumber, carrots, and apples.
What's Included

Frequently Asked Questions
How long do I have access to the recipes?
Forever when you download them. After enrolling, you can download the recipes for a period of 1 month - across any and all devices you own.
What if I am unhappy with the recipes?
We would never want you to be unhappy! If you are unsatisfied with your purchase, contact us in the first 30 days and we will give you a full refund.